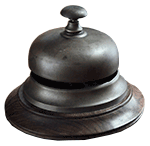 The front desk bell is more than a way to call one of our friendly staff members. It stands for old fashioned service that is so often missing at larger properties. Each and every guest is treated to old Hawaiian charm with the comforts of home. In fact, our caring, knowledgeable, and resourceful staff will make you feel as if you are staying at your favorite auntie's home.
Centrally located in the heart of Waikiki, the Holiday Surf Hotel is just minutes away from world-famous Waikiki Beach. We offer outstanding value, full kitchens, spacious rooms, and easy access to a wide variety of shops and restaurants.
E Komo Mai to the Holiday Surf Hotel!
I wanted to personally welcome you to the Holiday Surf Hotel. I know you have many options when it comes to choosing a hotel, so I am especially pleased that you chose to stay with us as you explore our wonderful island. Aloha is a word you will hear many times during your stay in our state and it goes beyond any dictionary definition. In addition to meaning hello and goodbye and many other things in between, aloha is a way of treating each other with love and respect.
At Holiday Surf Hotel we work to embody the word aloha, to treat each and every guest as if they are cherished ohana, or family. Staying with us is almost like staying with family, and from the moment you make your reservation until your departure we will do whatever we can to make your stay enjoyable. Our friendly smiles and helpful attitudes show that our staff truly cares about you.
Whether you are here for a much-needed holiday, a honeymoon or anniversary, a business trip or another occasion, mahalo for staying with us.
Aloha,



Patrick Chun
General Manager