Staff Picks
Dolphins and You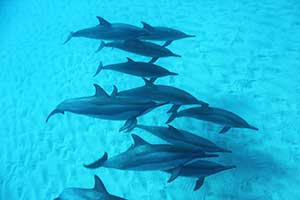 You would think living in Hawaii would automatically mean you love any and everything about the ocean. In my case that would not be quite right. I love walking on the beach, driving along the shore and admiring the gorgeous scenery. Not being a strong swimmer and being claustrophobic the idea of snorkeling kind of freaked me out. Because I get so many guests asking about swimming with wild dolphins and decided to stretch myself and experience this tour.
I am so glad I had the courage to force myself to experience this once in a lifetime opportunity. I highly recommend the early morning tours since dolphins are nocturnal. They get up early in the morning so the best chance of seeing dolphins is first thing in the morning. Our 5:45 pickup was early but completely worth it. While on the bus to Waianae (west side of the island) they showed us a video of what we could expect that day.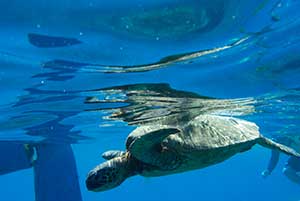 The tour includes a quick little hula lesson and then we headed to the boat for our adventure. After receiving safety instructions and our life jackets and snorkeling equipment we set off in search of dolphins. Dolphins and You is a very eco-friendly company and they take great pains to educate guests about dolphins, not to touch or crowd them and other interesting facts.
Two crew members went first and we followed them into the perfect temperature sparkling blue water. It didn't take long before they sighted the dolphins. As fearful as I was I put my face in the water and was rewarded by dolphins swimming nearly below me! It was amazing. We continued to swim out and were rewarded by over 50 spinner dolphins frolicking and jumping and having almost as good a time as we had. It was truly worth the early morning wake up, the long ride, and getting over my fears.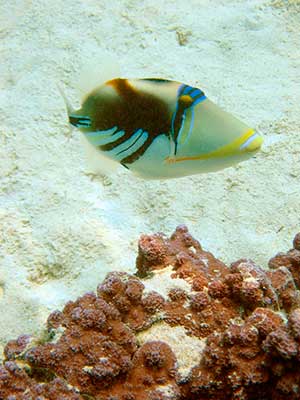 After we swam with the dolphins we got back on board. Part of the tour includes an opportunity for those who wish to snorkel at another beach where you can see an array of fish, turtles, stingrays, and other marine life. All guests have the opportunity to use the stand-up paddleboard (super hard!) or kayaks. If you want to be in the kayak you can do all the work or one of their awesome team members will do all the paddling. You can also be like me and be a slug on the boat enjoying the sun and gorgeous weather.
While the guests are playing the crew is hard at work grilling delicious cheeseburgers or veggie burgers for lunch. After they finish cooking they present a really fun high energy show of ukulele, singing, and hula. They are all so talented and engaging and, besides being in the water with the dolphins, they were the best part.
The crew takes tons of pictures (for sale on a flash drive after you get off the boat) but they are wonderful about posing for pictures using your camera. They are not at all pushy about selling the flash drive, but they are professional and a wonderful memento so you might want to consider it. We had a family with young boys (around 6 or 7) and they had a great time. This is absolutely a family-friendly day guaranteed to please everyone. Please be aware that this company does a lot of marketing to Japanese tourists so there are days that Japanese outnumber others but it's a non-issue. The ocean truly is international!
Tips to enjoy this tour: Eat before you leave because lunch is not served till around 11:30 or so. Wear your swimsuit before you arrive because there's no place to change. Wear sunscreen and bring a hat if you are sensitive to sun or, like my husband, you are bald. 4 hours on the water can really fry you.
This is not an inexpensive activity but worth every penny. I would do it again in a heartbeat and that's high praise from someone who doesn't love snorkeling. To learn more visit dolphinsandyou.com.
Other Picks
Dolphins and You | Legends in Concert | Majestic Island Tour | Rigger Sunset Cruise