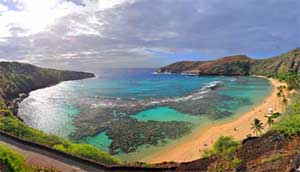 Staff Picks
E Noa Tours
E Noa Tours offers such a large variety of sightseeing tours that it was hard to pick just one. A friend and I went on the Majestic Circle Island Tour and had a superb time. Like all E Noa tour guides, Cousin Mark is a state certified guide. The amount of his knowledge is pretty amazing and he willingly shared it with us from 8:00 till 5:30.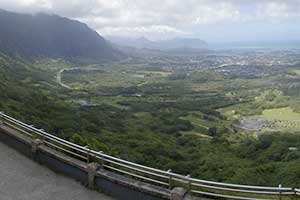 We left Waikiki headed towards Diamond Head. Cousin Mark told us about the geology and history surrounding this iconic volcanic crater. He also pointed out various properties and shared stories about previous and current famous owners. We enjoyed Hanauma Bay and the Blowhole which offer amazing views. One of the most amazing views of the day, and without a doubt the windiest, is the Pali Lookout. Cousin Mark gave us a very informative history of the historic battle that took place on Pali Lookout. For history buffs you will love this stop on the tour.
My friend had never been to our next stop, and I still can't understand how she could live on Oahu and never have gone to the Byodo-In Temple. This replica of the temple in Japan is one of the most peaceful places on Oahu. The gift shop sells fish food so you can feed the hundreds of gorgeous, multi colored koi.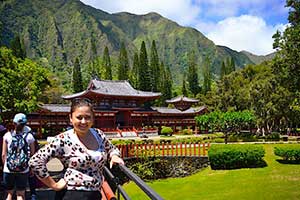 On the way to Cousin Mark's favorite stop we enjoyed some world-famous surfing beaches and even saw turtles. Waimea Valley is absolutely the highlight of the day. We could have spent hours walking the 1.5 miles to the waterfall learning about all the plants and trees. It is truly one of the most gorgeous places on earth and I learned so much.
This was a perfect tour. The air conditioning on the bus was not too cold, the seats were comfortable, and everyone seemed to love the day. I highly recommend the E Noa Tours Majestic Circle Island Tour.
Tip: The tour includes a no-host lunch at Crouching Lion. You should budget at least $15.00 for lunch. Guests who shared our table paid only $10.00 for a pitcher of beer they thoroughly enjoyed.
Other Picks
Dolphins and You | Legends in Concert | Majestic Island Tour | Rigger Sunset Cruise