Staff Picks
Rigger Sunset Cruise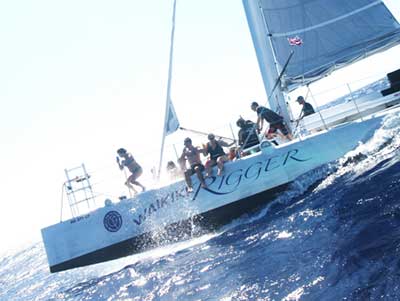 Nothing says Paradise like being out on the ocean watching the sunset with your skin being kissed by the tropical breeze.
The Rigger Sunset Cruise (affectionately called "the booze cruise") sails right off of Waikiki Beach near the Shorebird Restaurant. I decided to go on this cruise to learn if it was appropriate for guests of all ages. The fact that it serves unlimited drinks made it sound like there could be a frat boy air about the cruise. I could not have been more wrong! This really is perfect for any age though of course on any given night there could be a large group that might change the dynamics. Make sure to have your cameras ready because you will get the best sunset pictures of your vacation.
The catamaran is stable and we had very little rocking. No one on our cruise complained of feeling seasick. It's billed as a dry cruise because the waves are gentle and the possibility of getting wet is pretty small. Our sunset cruise was 100% as billed.
The fabulously friendly crew serve complimentary and never ending beer, wine, soft drinks, water and their house drink that really packs a punch.
The trip was beautiful with a perfect sunset, great music, and fun travelers from all over. Far from being a party boat, it was a laid back chill time to relax and enjoy the uniqueness of Waikiki. The view was amazing. Every spot on the boat is a good one.
Tips: This sells out quickly so visit the concierge to make your reservation. Be ready for an alternative date just in case your preferred date is not available. They also feature an Eco Snorkeling, High Speed Trade Wind, and Fireworks (Fridays only) cruise. To learn more visit waikikibeachsailing.com. Special Ohana pricing available.
Other Picks
Dolphins and You | Legends in Concert | Majestic Island Tour | Rigger Sunset Cruise