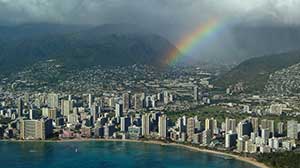 " How's the weather in Hawaii?", or specifically "How's the weather in Hawaii in March or November?" is a much-often asked question. Most of the time, the answer is pretty easy – Almost every day of the year Hawaii weather is spectacular with beautiful trade winds, stunning blue skies, and moderate temperatures. Hawaii is considered by many to be the closest thing to paradise on earth.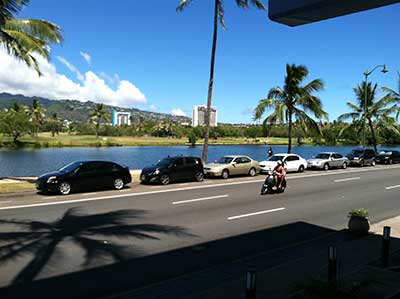 Hawaii has two distinct seasons; a normally drier season during the summer months (May to October), and a rainier season which generally runs during the winter (from November until March). Hawaii has a tropical climate so the chances are good that is almost always raining somewhere on one of the islands. Typically if you wait long enough a rainbow will appear to reward you for the minor inconvenience of the brief rain.
In most areas of Hawaii temperatures vary only a few degrees from season to season. At the beaches the average daytime high in summer is in the mid-eighties, while in winter the average daytime high is still in the high seventies. The temperatures drop about ten degrees at night.
While Hawaii weather is usually as close to perfect as anywhere on earth, Hawaii is located in an area that is sometimes, though rarely, subject to severe weather conditions.
To learn more about what the weather is today or for a future trip visit the weather page.
On the off chance you are here on a rainy day, click here for some rainy day ideas.